It's showtime – exhibit with us!
Be part of the Bay of Quinte Home Show on April 17, 18 & 19.

The Bay of Quinte Home Show consistently attracts approximately 2500 people from Quinte West & surrounding region, ready to buy and excited to learn about the latest products and services. Our Grand Prize of $1000 Home Show Bucks, quality vendors and the low gate fee of $3 helps draw an eager audience.
The Bay of Quinte Home Show has grown and is now the largest home show in the Quinte Region with over 120 vendors. We have three shows in one Home, Leisure and Women's Show. We hope that your company will choose to be part of the show.
Home Show Hours
Friday
April 17
5:00 pm to 8:00 pm

Saturday
April 18
10:00 am to 5:00 pm

Sunday
April 19
10:00 am to 3:00 pm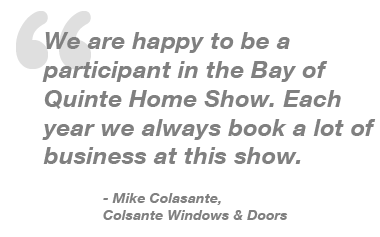 Be a Vendor at Our Show
We are currently accepting bookings for the April 2017 show.  Register early to get booth location of choice!
Click here for a copy of the contract.
New Business

Are you a new business under 3 years old and have never been in our show before?
We have a special rate of $225 for you!
Click here to find out more!


Contact the Quinte West Chamber of Commerce TODAY to save your space for the 2020 Bay of Quinte Home Show!


Set up time

Thursday April 16 from 3pm – 9:00pm
Friday April  17 9:00am – 4:30pm


Tear down

Sunday April 19 after 3:00pm